fore news blog
Friday, April 28, 2017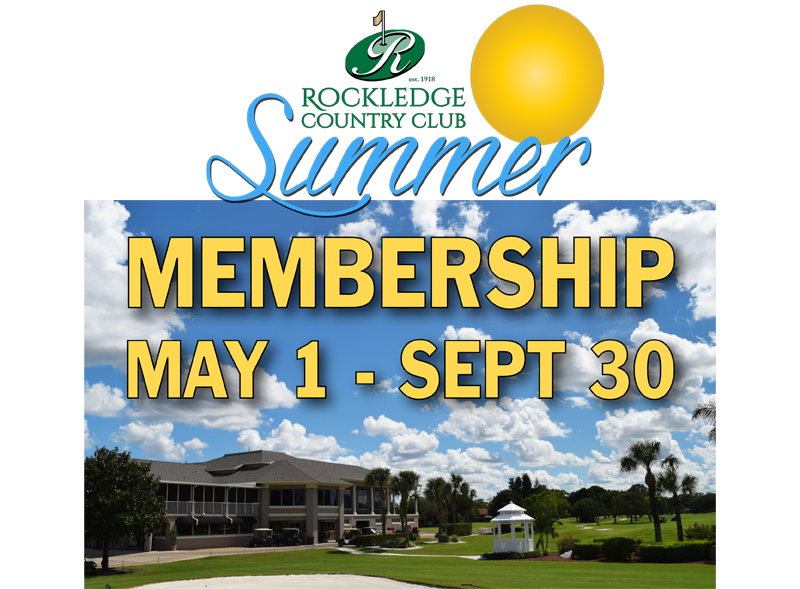 Summer Membership at Rockledge Country Club starts May 1, 2017 and runs for five months through September 30. We have several options for you to choose from.
Silver Summer:

5 Month Commitment
Unlimited golf access anytime
18 Holes: Mandatory Cart Fee $18
9 Holes: Mandatory Cart Fee $9
Single Dues: $350.00
Family Dues: $550.00
$25 Single monthly food & beverage minimum
$50 Family monthly food & beverage minimum

Bronze Summer:

5 Month Commitment
Limited golf access Friday, Saturday and Sunday before noon
Walking membership
Single Dues: $500.00
Family Dues: $750.00
$25 Single monthly food & beverage minimum
$50 Family monthly food & beverage minimum

Junior Summer:

Must be 17 years of age or under
5 Month Commitment
Unlimited use of Practice Facility
Walking: No additional charge
18 Holes: *Cart Fee $18
9 Holes: *Cart Fee $9
Single Dues: $300.00

Must have valid driver's license to rent a cart. Parents are allowed to drive children on a cart. Cart fees apply.

RCC and Duran Summer Combo:

Play both courses: RCC and Duran
1 Month Commitment
$99.00/month per person
Mandatory Cart Fee $22, both courses

Optional Add-ons:

Add-ons available only at RCC
Cart Lease Single: $180 per month
Cart Lease Family: $250 per month
Unlimited Practice Facility: $150.00 Single
($50 additional per person)
Practice Facility: $5 per ½ bucket or $10 per bucket

Access to ALL Club Amenities | NO Initiation Fee w FREE Clinics

GET STARTED TODAY!

Call 321-636-6022 or email Andrea.Beyel@RockledgeCC.com

to sign-up today!
Wednesday, December 07, 2016
For most golfers, shooting their age is a feat they only dream of. But for a trio of golfers at Rockledge Country Club, shooting their age is like clockwork.
Fred Robinson, Charles Tournabene and Phillip Eschbach are all World War II veterans, well into their 90s and play several rounds of golf per week at Rockledge Country Club in Brevard County.
| | |
| --- | --- |
| | |
| Phillip Eschbach (left), Fred Robinson(center) and Charles Tournabene (right) enjoying a round of golf at the Rockledge Country Club. | |
Don Sparpana, Rockledge Country Club member for the past 10 years, frequently golfs with the trio.
"They play regularly and they play well," Sparpana said. "I mean, they are not just out there to bang on the ball, at best they shoot in the high 80s and at worst probably mid to high 90s if they have a bad day."
Robinson is 94 years old and a Pearl Harbor survivor, but that doesn't stop him from playing golf at the club every week.
"I have been a member here since 1967, and I play golf four or five times a week," Robinson said. "I used to play seven days a week, but I am little old for that."
In their years of golfing, the trio is proud of the number of times they have made a hole-in-one. Eschbach said he has had made a hole-in-one twice. Robinson and Tournabene said they both have made a hole-in-one three times.
Rockledge Country Club members and Rockledge locals have taken notice to the trio and asked themselves how they can achieve an active lifestyle into their 90s as well. Kimberly Wilson, marketing and communications manager at Rockledge Country Club, is one of many who are impressed with their active lifestyle. "They are an inspiration to all of us at the club," Wilson said. "I don't know what their secret is to being so active at their age, but I would like to find out."
| | |
| --- | --- |
| | |
| | Fred Robinson, 94, celebrates the putt he just made. Robinson has been a member of Rockledge Country Club since 1967. |
Jeff Turner, PGA, head golf professional at Rockledge Country Club, said the reason these men are still so active is because they have been playing golf on a daily basis for 60 years. Sparpana said that he would attribute their good health to regular practice and attending fitness classes at the gym.
Chad Kessler, orthopedic surgeon at Georgia Bone and Joint, shared his expertise on the matter. "It is important to maintain your weight, aerobic fitness and lean muscle mass through low-impact aerobic exercise and resistance training in order to continue to have the ability to be mobile and physically active into your 80s and beyond," Kessler said.
Tournabene and Eschbach said they would attribute their health to clean living. Rich Janne, Rockledge Country Club member, has been golfing with the trio for 10 years. "Chuck (Charles Tournabene) has always gone to the gym," Janne said. "He plays four days a week and goes to the gym for two or three of the others."
Janne said Eschbach has always been very active. "You know, Phil (Eschbach), the other day he didn't play golf because he had to spend time cleaning up his yard from the hurricane," Janne said.
As a part of their active lifestyle, the trio plays tournaments among other members within the private club.
"We have a group that can be anywhere from about 8 to 26 depending on the time of the year, and it's competitive," Sparpana said. "We draw names each time we go out and each time we play a different game and the winners get the pot." The games are for fun and exercise for Robinson, Tournabene and Eschbach; it's not just about the money for them, said Sparpana. Robinson, Tournabene and Eschbach all said they play for the the love of the game.
| | |
| --- | --- |
| | |
| Phil Eschbach, a University of Florida alumni, drives his golf cart back to the clubhouse at Rockledge Country Club. | |
Eschbach, a Melbourne native and Cocoa High School alumni, laughed and said they cheat a lot when it is just them, which keeps it light and fun. "Twice a year we have a little banquet for lunch, and today was one of them," said Janne. "It's called the Tournabene Group, and we play four days a week for $5 a piece." Janne said Tournabene then keeps the money in the kitty for the banquets. He said the Tournabene Group also one banquet before the snowbirds arrive and one after they leave.
"When the year ends, it's pretty close, but each person has probably won equal times," Sparpana said. "There may be a few differences, but overall there isn't much of a spread."
Turner said they all have about the same handicap, ranging from 23 to 24. He said they are all out there just to have a good time. "I play with these guys, they're wonderful. They are a great gang to play with, and I like taking their money," Robinson said.
By: Taylor Wilson
Tuesday, October 25, 2016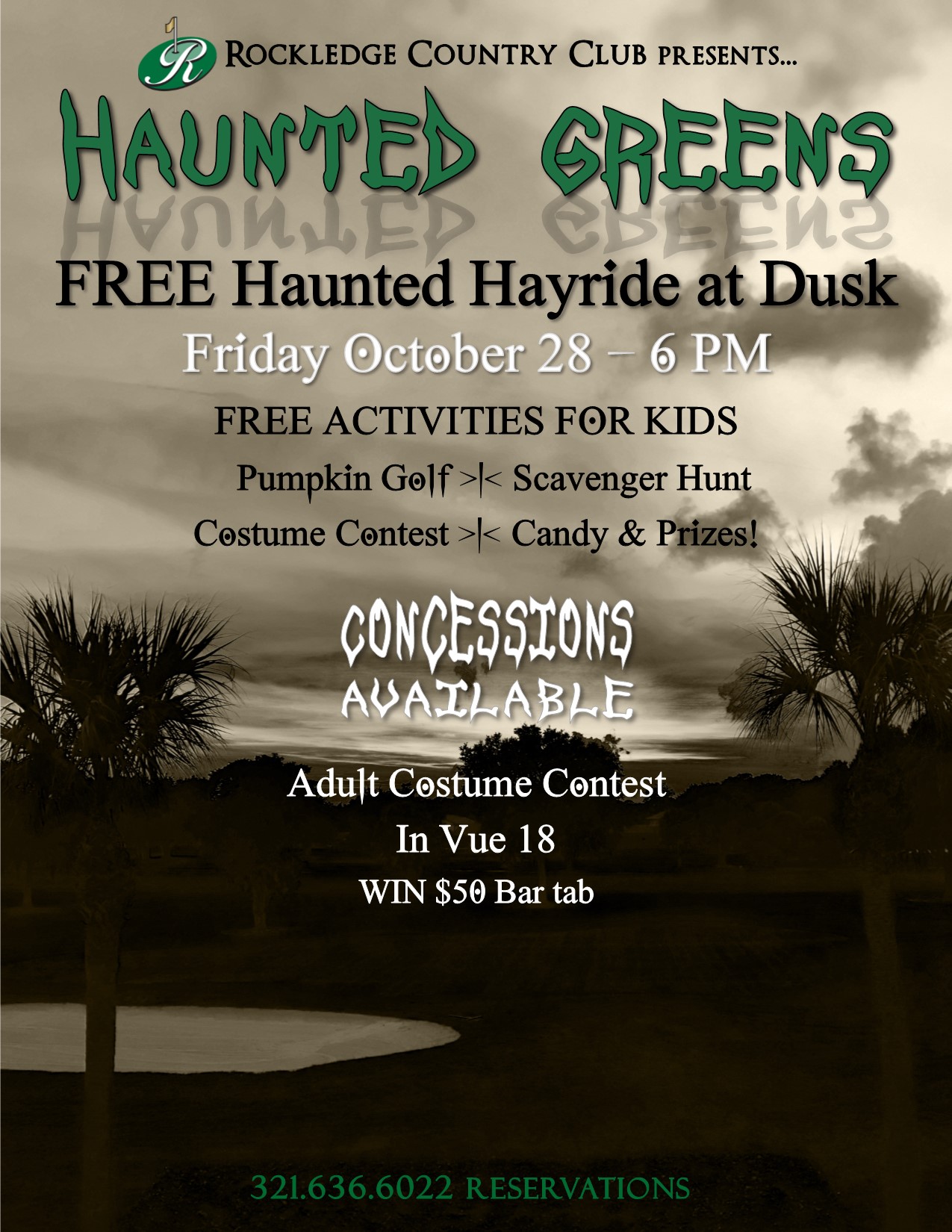 This Friday RCC is hosting a FREE Haunted Hayride with activities for Kids which include Pumpkin golf, Scavenger hunt, Costume Contest where everyone wins candy and prizes.