Meet the Pro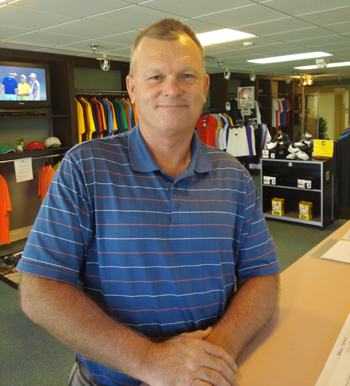 Our golf professional, Jerry Yeomans, has an unusual distinction of being a member of the PGA of America, and a member of the GCSAA (Golf Course Superintendents Association of America).
Jerry began his golf career in Texas as a golf professional. It was here that he learned all facets of the golf industry. In Texas, Jerry was part of a family-owned golf facility that required talent in many different areas to help the business succeed. The family business was eventually sold, and a move to Florida to be where "the golf is", was in order. Jerry was an assistant golf professional at Delray Dunes Golf and Country Club in Boynton Beach from 1989-1991. He then became enamored with the "outside world", and received his certification in Turfgrass Science at Palm Beach Community College. Hawk's Nest Golf Club in Vero Beach, Fl. was the next stop in his career. He was the assistant superintendent there from 1991-1997. Jerry arrived at Rockledge Country Club in 1997 as the Golf Course Superintendent. Jerry says "the course was about to install new USGA specification greens at this time, and I had just finished doing the exact same job at the course I was at, so it was a great fit". Jerry was the superintendent at Rockledge Country Club from 1997-2014. He was promoted to Director of Golf Operations where he holds the position of Head Golf Professional and Superintendent. He has been in this role since April of 2014. This keeps Jerry on his toes for sure, and he attributes his ability to manage both positions to his versatile background, and to his excellent staff in both departments.
To contact our head pro and set up a time please call (321) 636-6022 or email golf@therockledgeclub.com.